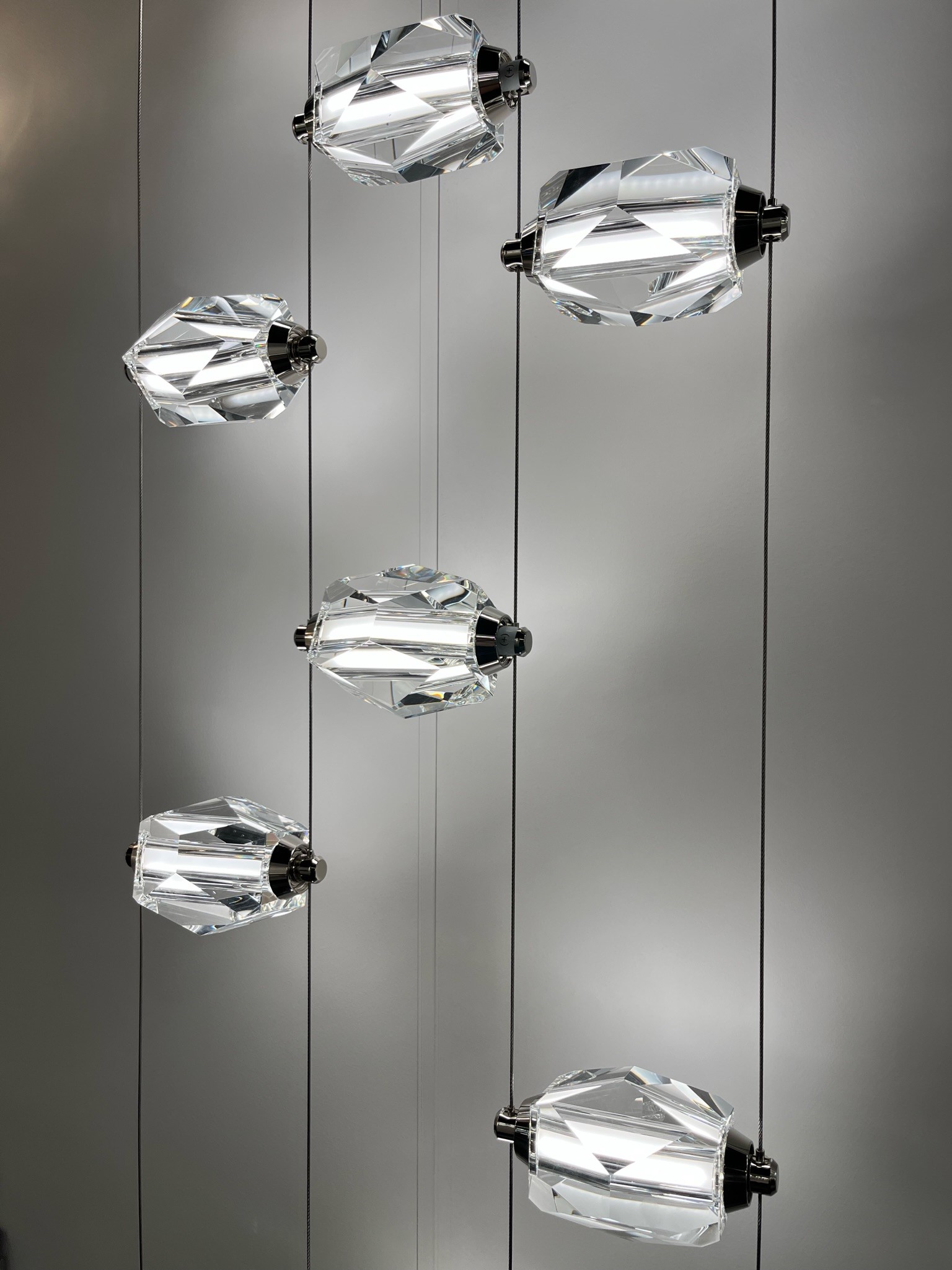 The Captivating Artistry of Lighting Fixtures at High Point Market
Lighting fixtures are often the unsung heroes of a room, providing illumination and adding to the ambiance without taking center stage. However, at this year's High Point Market, our team of interior designers noticed a trend of lighting that is anything but subtle. Instead, they found lighting fixtures that were sculptural in nature and often inspired by the beauty of nature itself. In this blog post, we will explore this exciting trend and share examples of stunning lighting fixtures our team discovered.
Much Ado About Lighting
When asked about lighting as art and its impact on the overall design, GID designer Lindsay Molinario stated, "Lighting plays a bigger role than it ever did. It has become more of an art piece in space, from the sculptural approach that many companies are taking to the use of more unconventional materials. The way lighting interacts with the overall design influences how people feel in a space."
As interior design trends continue to evolve, lighting has become an integral part of any home's overall aesthetic. No longer merely a functional element, lighting is now regarded as an art form, capable of creating a luxurious, inviting atmosphere in any space. At Gulfshore Interior Design, our expert designers believe that lighting is a key driver of ambiance and mood, and they use it as a creative tool to complement the other design elements and architectural details. Whether selecting bespoke lighting fixtures or strategically placing fixtures to highlight certain features, our designers go above and beyond to create a luxurious experience in every room and embrace lighting as art. Every aspect of the lighting design is thoughtfully considered to bring the whole design full circle, delivering an editorial-worthy finish guaranteed to impress even the most discerning clients who appreciate the finer things.
Our team understands that your home deserves only the best in design. Principal designer Brooke Meyer, who has a wealth of experience in designing luxurious spaces states, "In today's age of open-concept homes, we focus on integrating simple linear LED lighting that enhances certain features, while preserving the simplicity of a client's home. With this approach, their home remains timeless, and we can create interest with more artistic pieces that can be easily switched out as tastes evolve." We understand that as you settle into your community and explore new lifestyles, your home should reflect those changes. Trends come and go, and your artistic preferences may shift over time. Having a timeless home with a few pieces of interest allows you to swap out those key pieces.
A New Kind of Coastal Inspiration
A trend in this season's lighting fixtures was a more contemporary approach to coastal inspiration. The use of natural materials, such as coconut beads, rattan, and driftwood added a beautiful organic and exotic feel to these pieces- a far cry from the stereotypical coastal style of your grandmother's Florida condo. Many of the fixtures in this style were chandeliers or pendants with cascading tiers of sea-inspired materials meant to mimic the magnificent beauty of wild coral, or rattan sticks delicately fashioned over metal framing creating stunningly bold yet soft geometric pieces. This trend lends the ability to indulge in the refreshing aura of seaside living without resorting to cliché and creates a chicness to your beach house or an urban apartment.
Experimental Hot Metal Pours
One of the most striking examples of lighting as art at High Point Market was the use of hot metal pouring techniques. Some designers embraced the beauty of molten metal and played with its ability to be malleable. The result was stunning fixtures that appeared to be frozen in motion, with curves and bends that gave the impression of fluidity. These pieces are more than just functional lighting fixtures; they are true works of art.
Mixing it Up
Another intriguing theme was the use of mixed materials. Designers incorporated materials such as wood, metal, acrylic, goatskin parchment, and mixed metals to create unique and eye-catching lighting fixtures. These pieces blended materials in unexpected ways and intriguing shapes. This trend showcases how lighting fixtures can be more than just functional objects; they can be artistic statements that reflect both a designer's vision and the client's individual style.
At High Point Market, our team of interior designers discovered a wide range of stunning lighting fixtures that were more than just functional objects. These illuminated works of art added a sense of whimsy and sophistication to any space. From the coastal inspired to hot metal pours and mixed materials, these fixtures showcase the intersection of design and functional art. If you're considering hiring a luxury interior designer, we highly recommend exploring this trend in lighting fixtures to elevate your space and make a statement.
Florida is home to some of the best interior designers in the world and we are proud to be among them. Our experienced team of Florida interior designers offer luxury design services for both renovations and new construction projects and we would love the chance to discuss your project goals and objectives.
Connect with us today so we can set up a time to meet and review how we can help you bring your luxurious dream home to life. With our knowledgeable professionals, reliable support staff, trustworthy guidance, and upscale design choices, you can rest assured that your project is in good hands. Get in touch today to see why our clients are raving about our services!