About Us
Setting the new standard in luxury interior design
Naples | Port Royal | Marco Island | Palm Beach + Jupiter
CUSTOM CABINETRY & FURNITURE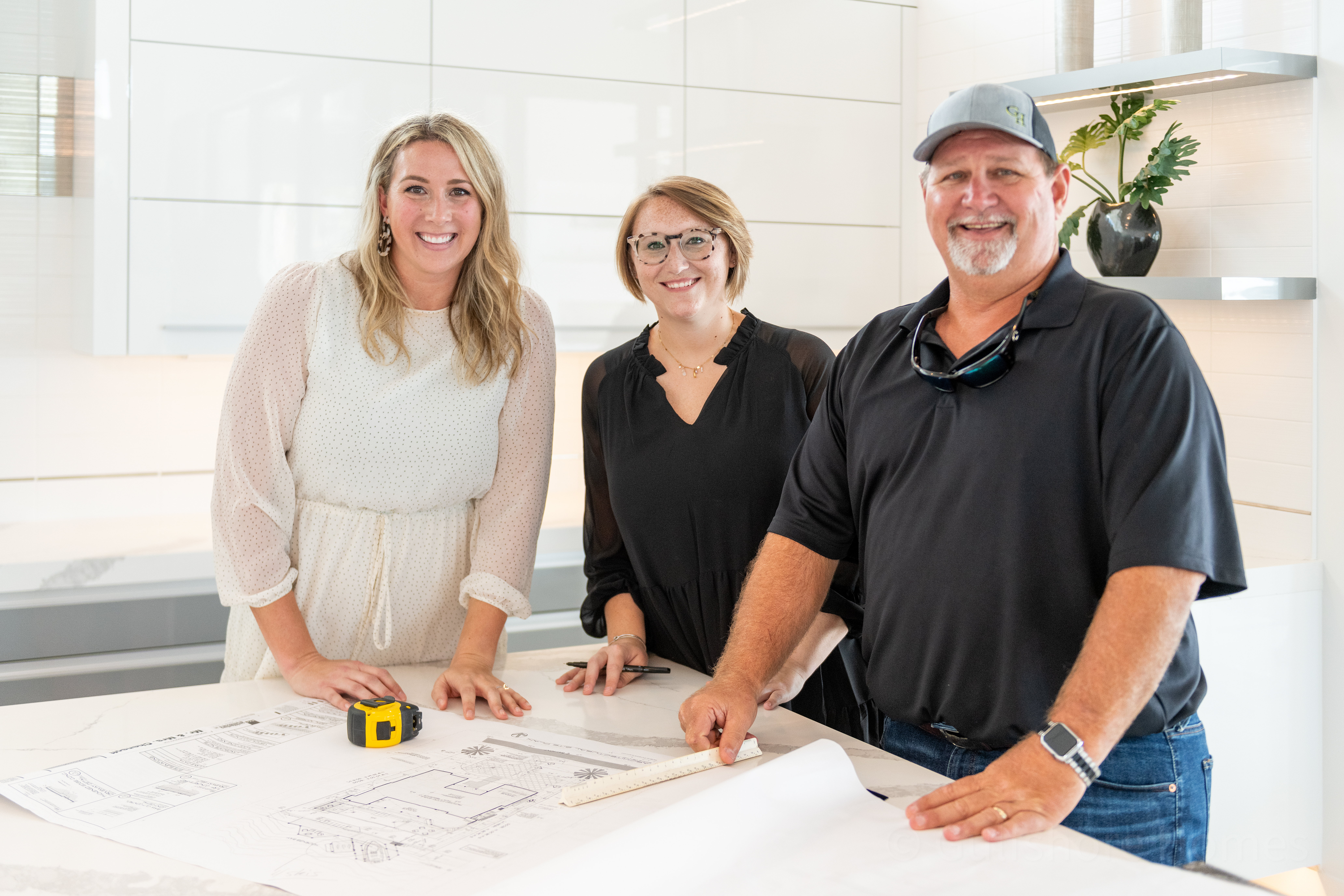 Principal designer, Brooke Meyer along with lead designer, Lindsay Molinario pictured with Gulfshore Homes VP of Operations, Matthew Shull
Exceptional homes deserve exceptional details
A Division of Gulfshore Homes
Gulfshore Interior Design was created as an answer to a question posed by Gulfshore Homes,
"How do we streamline creating exceptional homes with equally incredible interiors, while making it a stress-free experience for our clients?"
Gulfshore Homes partnered with luxury interior designers Brooke Meyer and Lindsay Molinario to form Gulfshore Interior Design in October of 2021 with a unified goal of setting the new standard in luxury home design and creating next-level, unique designs for our clients.
From the moment you walk into a Gulfshore Home, it's all about creating an experience. The attention to detail is second-to-none with services that are tailored for each client's needs and personal style preferences – no matter what they may be!


High-level, bespoke designs
Gulfshore Interior Designs strives to provide clients with interior designs that are completely unique. Our designs seek to elevate spaces in order to evoke feeling. We aspire to design spaces where our clients can create memories, develop relationships, invite intimacy and impact daily life and the connections you make.
At GID we also offer so much more with architectural detailing, high-end finishing, hand-drawn furniture design, and other supports related to home design and home renovations.
We are currently in process with various projects set for completion in Winter 2022 and Spring 2023. We can't wait to share those to a digital portfolio. Our private portfolio is available for those wishing to connect with an initial interview.
Introducing Our Luxury Interior Designers
Brooke Meyer has been elevating luxury interior design for over a decade throughout Southwest Florida and across the globe in places such as Paris and Grand Cayman. She is passionate about interior design and consistently strives to set new, higher standards for quality design and the client experience.
The key to Brooke's process is getting to know her client's motives, moods, and lifestyle. She is constantly honing in her strategic step-by-step process to actively engage the client, thus creating an open dialogue and an ideal space for collaboration. Brooke believes that setting clear and realistic expectations is paramount in keeping the design process flowing organically.
Brooke relishes the opportunity to find pieces that are special and unique to each home, often hand-drawing and manufacturing pieces of furniture or commissioning original one-of-a-kind fine art. She strives for designs to always be on the cutting edge so her clients are setting trends.
Connect with us to learn more about Brooke and discuss your interior design project.
More to Come
We have so many incredible projects in the works right now. We can't wait to share all that we have been building. In the meantime, be sure to follow Brooke on Instagram to get real-time, behind the scene footage of everything coming together!
@brookemeyerdesign "Brooke and her team exceed expectations EVERY time I share their services with my customers. Not only are they professional, they're personable and trustworthy! Care, diligence and exceptional follow up and follow through are what make this team stand out above the rest!"
Lindsay Molinario has been working alongside Brooke for nearly five years. Lindsay is our in-house CAD expert, which she loves using due to the precision with which she can execute projects.
Lindsay draws inspiration from international travel and the world around her. During her time at the lauded High Point University interior design program, Lindsay traveled to Italy to participate in the Istituto Lorenzo de' Medici furniture design and sustainability certification. There, she learned how to combine functional, elegant design with environmental awareness and used her spare time to travel the span of Italy. She visited everywhere from Florence to Tyrol and down to Sorrento, gathering design inspiration to bring back to The States.
Lindsay's strengths lie in time management and her sharp attention to detail, having insight on aspects of a project that often get overlooked by other designers. She strives to provide an environment where clients feel heard, so their designs are directly aligned with their lifestyles.
Lindsay has an interesting approach when it comes to presenting options to her clients. She believes it is important to show varying selections with contrast to push them out of their comfort zone. This allows her to get a better picture of what they gravitate toward, versus what is polarizing for them.
Lindsay strives to produce high-quality work within the budget. She loves any opportunity to rise to the occasion and is driven by a challenge.
Designing with GID
How It Works
Initial Interview
We meet with you to discuss your vision, the scope of the project, and more. Here you can ask questions and view our private portfolio.
Material Selection
Our designers open your eyes to an entire world of luxe brands, fabrics, fixtures and finishes. Each design being as unique as our clients.
Design Execution
After you view your life-like rendering and approved your final design, we get to work securing your selections, coordinating the installation, and executing the design to the highest level.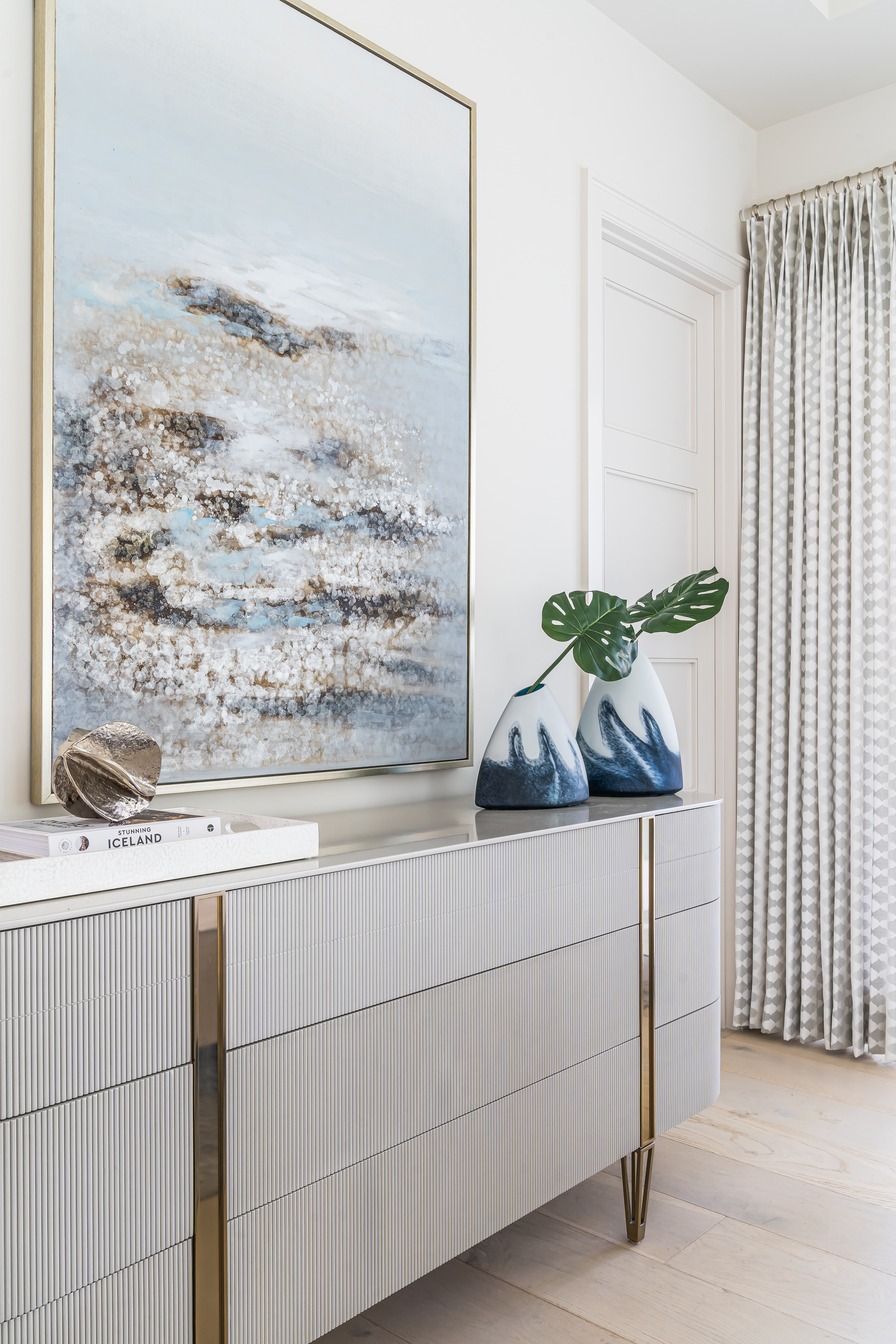 It's no secret that the accessories you choose for your home can make a huge difference in how it looks and feels. Accessories create depth and style and can add timeless elegance to any space. But with all the accessories available on the market today, choosing the right pieces for your home can be daunting, even for the sharpest of homeowners.
read more
Frequently asked questions
Does GID work exclusively with Gulfshore Homes?
GID will work with any builder. Our designers have worked with various builders and maintain good relationships with each. Our team is highly adaptable and willing to work with a builder of your choice.
I Already started, but I'm overwhelmed. Can I still hire GID for interior design services?
Absolutely! We understand even the most enthusiastic home buyer/renovator can get overwhelmed, thus making designing a home exhausting and unpleasant. That's where we come in! We are here to make the design process enjoyable and exciting, without bogging clients down with the processes. 
I don't see any projects on your site that I like. Do you even do my style of design?
Of course! Projects featured on our site are a direct reflection of the lifestyle and preferences of each client. We are always enthusiastic and excited to work with clients who have unique tastes, and we want your home to reflect your lifestyle and preferences.
Florida is home to some of the best interior designers in the world and we are proud to be among them. Our experienced team of Florida interior designers offer luxury design services for both renovations and new construction projects and we would love the chance to discuss your project goals and objectives.
Connect with us today so we can set up a time to meet and review how we can help you bring your luxurious dream home to life. With our knowledgeable professionals, reliable support staff, trustworthy guidance, and upscale design choices, you can rest assured that your project is in good hands. Get in touch today to see why our clients are raving about our services!